---
Russia's military intervention in Syria, launched in September 2015, is a game-changer on several levels. One interesting facet of this engagement is the impact it had on promoting Russian-made arms. Even though this link has been publicly acknowledged by Russian officials, the actual correlation between deployment of weapons and consequent increase in sales has not yet been established, essentially because more time is needed for a proper analysis.
Two major factors dominate the decisional process to purchase weapons of a strategic importance: while one is operational in nature, the second is purely political. This is even more so for certain countries in the MENA region. For Russia, the military and political engagement in Syria is an opportunity not only to showcase the operational capabilities of their weapons but also the political "muscle" behind them. 
Growing interest in Russian arms in the Middle East since 2015
A quick look on arms transfers databases reveals a growing demand for Russian arms in the Middle East. In 2012, Russia delivered weapons to four countries (Algeria, Egypt, Jordan and the UAE – in addition to Syria and Iran). Five years later, in 2017, it delivered weapons to eight countries (Algeria, Bahrain, Egypt, Iraq, Jordan, Qatar, the UAE and Turkey – in addition to Syria and Iran), and sales grew in variety, size and value. Compared to 2012, the sales, according to announced figures and estimates, at least doubled in size, both because of the expansion to new markets and increased sales to traditional partners. What could explain this increased interest in Russian weapons? Is President Vladimir Putin correct to credit the boost to the "marketing effect" of the Syrian war? Or are there other, more important, factors at play?
The Russian military industrial complex showcased the best it has to offer in Syria, deploying a vast array of naval, air and ground weapon systems. Furthermore, the conflict has served as a major testing ground. According to various statements by Russian officials, a minimum of 60 and up to 200 of these weapons have been tested in combat for the first time in Syria. "Combat-proven" is in itself a major marketing argument. As Deputy Defense Minister Yuri Borisov said in 2017, "it cannot be overestimated (…) Customers have started queuing up for the weapons that have proven themselves in Syria." Among those publicly confirmed first-time combat-tested weapons were both examples of the latest Russian state-of-the-art technology, as well as weapons serving in the Russian military for decades.
"it cannot be overestimated (…) Customers have started queuing up for the weapons that have proven themselves in Syria" – Russia's Deputy Defense Minister Yuri Borisov.
In the first category, we find the heavy supersonic strategic bomber Tu-160, new generation fighter jet Su-34 or the first Russian stealth fighter ever constructed, the Su-57. Older generations include the T-90 tanks, Ka-52 attack helicopters and BMPT 72 military vehicles. With the exception of the S-400, all the weapons that are subject of ongoing negotiations or concluded deals, have also been tested for the first time in combat in recent years in Syria. For the S-400 in particular, and although the system has been deployed in Syria as well, it has not yet been used in combat. Despite that, there is a growing interest in the S-400 in the region. The S-400 air defense system is not just another advanced piece of equipment. The decision to acquire it is the basis or starting point of a strategic relation between the provider, Russia, and the client.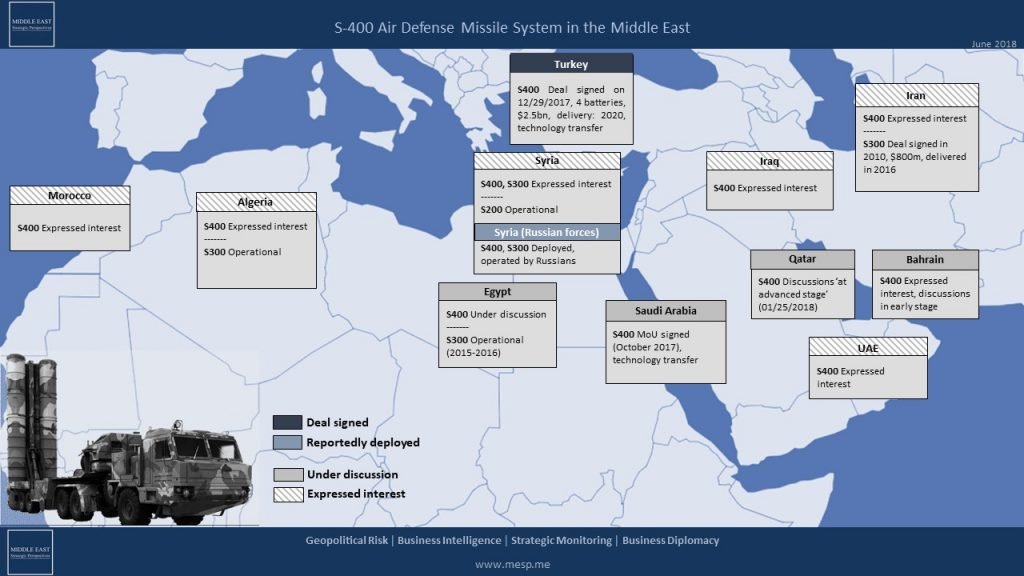 Displaying the capabilities of these systems in action is certainly a strong sales argument, but there are other factors that explain the popularity of Russian-made weapons. First of all, most of the contracted weapons, such as air defense systems or fighter jets, are highly advanced pieces of technology and there is only a handful of producers capable of supplying them. Generally speaking, Russian weapons are highly efficient and cost-effective. Where Russia lags in technological innovation, it makes up for in costs. At the same time, American (and Western) companies go through a much stricter process of arms export control, and arms deals to third countries often involve some form of political conditionality. Middle Eastern countries might therefore prefer, under certain circumstances, to avoid the uncertainty and bureaucracy and choose the straightforward option of dealing with other providers, such as Russia, which also puts forward the time factor and its ability to deliver supplies quickly.
It is no surprise that the growing demand for Russian arms in the Middle East coincides with a massive Russian drive for greater influence in the region. In certain Arab countries, it also appears to have coincided with growing doubts over the real nature and extent of U.S. commitment in the region.
Since the decision to back Syrian President Bashar al-Assad, Russia has consistently worked on developing ties with major countries in the region, such as Saudi Arabia or Egypt, and becoming a key regional player. Arms exports are one way to build closer ties based on cooperation and increased influence. Therefore, not all arms deals can be solely explained from a purely business angle, but they carry substantial political motivations as well. This is even more so in the Middle East. This explains why Moscow is more determined to provide substantial discounts, loans and incentives, as the deal itself brings more than just purely financial profits and is an opportunity for Russia to expand its political influence.
Egypt serves as an example of arms sales going hand in hand with strengthening deeper ties. A key U.S. ally in the Middle East, relations with Washington have been through ups and downs in recent years. The strategic relationship hit a low under President Barack Obama who temporarily suspended aid after the overthrowing of then President Mohammad Morsi in July 2013. Donald Trump's arrival to office was initially met with enthusiasm in Cairo and indeed relations with the U.S. have seen an improvement since, but human rights concerns continue to be raised in Washington – much too often for Cairo's taste – and larger portions of aid now depend on improving democracy and human rights conditions. In the meantime, Russia steadily sought to bolster ties with Cairo, through careful diplomacy and high-profile state visits (in 2015, Putin was the first major leader to meet with President Abdel-Fattah al-Sisi after he assumed office. Putin's second visit in 2017 saw the signing of landmark agreements, including a nuclear power plant deal). At the end of 2017, it was announced that a deal was reportedly reached allowing Russia to use Egypt's air space and air bases.
The relationship with Turkey on the other hand followed a different path. Bilateral relations were severely strained by the 2015 incident when a Turkish F-15 shot down a Russian fighter jet, causing Russia to immediately deploy the S-400 system in Syria. In following years however, both countries worked hard to repair relations. The U.S. decision to withdraw its Patriot missile batteries from Turkey's border with Syria in 2015 pushed Ankara to look for alternatives to strengthen its defense and signaled a window of opportunity for Moscow. The rapprochement between the two countries as of 2016 made the acquisition of the S-400 system an increasingly viable option. As a member of NATO and U.S. ally, the decision to purchase the S-400 air defense system puts a strain on Ankara's relations with its western allies. Specifically, the U.S. is exerting strong pressures on Turkey, threatening to cancel the planned sale of F-35 jets, in order to discourage it from moving forward with the S-400 deal, but with little success so far.
Russia also continues to maintain ties with its traditional partners in the region and long-term importers of Russian weapons, most notably, Algeria and Iran.
Algeria is a regular client. Algiers is the largest military spender in Africa, and despite efforts to reduce military imports, it continues to import Russian weapons and remains one of Russia's most important clients in the region.
Iran's case is more complicated, as the import of most conventional weapons was banned by a U.N. embargo from 2010 until 2015. This explains why Russia was forced to cancel or put its arms sales on hold during this period, including a major deal to provide the S-300 air defense system. Following the Iran nuclear deal in 2015 and the lifting of the arms embargo, Russia quickly re-established its supply of arms to the country, and finally delivered the S-300 system in 2016.
Framework agreements in anticipation of potential arms sales
Arms deals are often preceded by broader framework agreements facilitating military and technical cooperation. They provide a political dimension to business-oriented deals. It is in that spirit that a number of countries in the region have recently signed MoUs with Russia for closer military cooperation, in anticipation of future arms deals. Note that, beside the countries listed in the below table, an MoU with Lebanon is under consideration and awaiting official Lebanese approval. This has been repeatedly postponed over the past months due to pressure from traditional partners supporting the Lebanese army.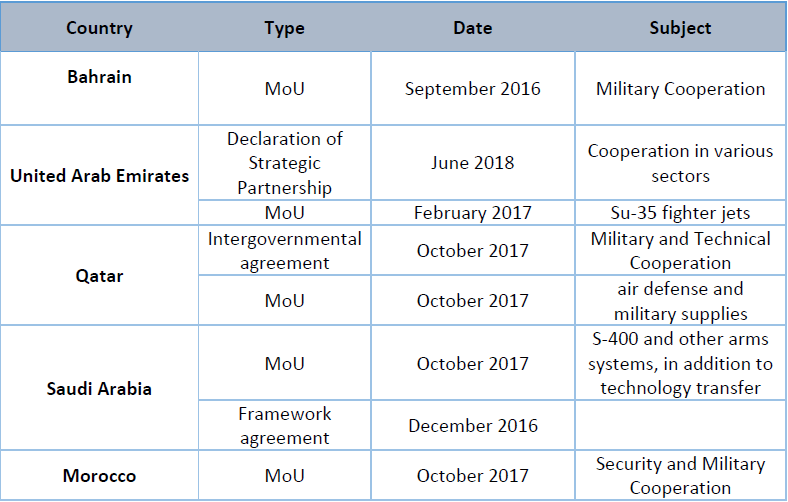 Visible presence in major exhibitions in the region
The Russians, naturally, are also aware of the importance of effective marketing and both state officials and the media never fail to prop up the successes of Russian weapons in Syria. In recent years, Russian companies have also significantly increased their presence at the major airshows and defense exhibitions in the Middle East.
Russian presence was among the most visible at IDEX 2017 in Abu Dhabi, one of the largest international defense exhibitions in the world, with over 240 pieces of military equipment attracting considerable interest, particularly the Su-35 fighter, Ka-52 helicopter, the S-400 air defense system, the Pantsir-S1 air defense system and Igla-S man-portable air defense, in addition to T-90MS tanks, armored vehicles and patrol boats. At the 2017 Dubai Airshow, Russia used the latest exhibition technologies, including a holographic multimedia catalog and a demonstration table with levitating models, to showcase the best it has to offer in air defense systems, fighter jets, attack and transport helicopters etc. Russia also actively takes part in the SOFEX expo in Jordan, and since 2015, in the DIMDEX expo in Qatar. Promoting the Syrian combat-proven experiences is, at all of these events, an important part of Russian sales strategy, aiding its companies to gain an edge over its competitors.
Similarly, Russian defense exhibitions, such as the International Military-Technical Forum organized by the Russian Defense Ministry, have become unmissable events for visitors and delegations from the MENA region.
***
Russia's decision to back Syrian President Bashar al-Assad, has, at first, antagonized some of the countries in the region that were actively backing the opposition. But apprehension and diverging approaches on certain subjects did not conceal shared interests elsewhere, particularly on the energy or security fronts.
It is important to note that arms deals are generally lengthy processes. Some of the deals concluded lately have been years in the making, before even the start of the Russian intervention in Syria. Not all can be solely attributed to the "marketing effect of war". That said, the "combat-proven" label is an undeniable marketing argument. In Russia's case, the massive military engagement in Syria, coupled with increased influence in the region, allowed Russia to position itself as a desired political and military partner.
At a minimum, it appears Russia was able to upgrade its appeal in the region. In the past few years, Moscow 1) has expanded its influence in the Middle East (it is solicited on virtually all issues of primary concerns, while managing to maintain good ties with all the countries in the region); and 2) was able to draw more interest in its military technology, not only from its traditional partners, but also from new countries in the region.