---
Lebanon – Pre-qualification round:
In accordance with previously set deadlines, caretaker Energy Minister Gebran Bassil held a press conference on 28/03 – the closing day for the pre-qualification round –  along with the members of the Petroleum Administration's board, to announce the list of companies that have submitted applications to pre-qualify for the country's first licensing round. Bassil could have opted for a less publicized event, but a week after the resignation of the government, the minister wanted to send a strong message to show that his ministry is determined to fulfill its responsibilities and respect all the deadlines related to hydrocarbon exploration. Both local and international media were responsive, and the event received a wide coverage. It was broadcast live on OTV (The TV channel of the Free Patriotic Movement, the political party Bassil belongs to) and al-Jadeed TV, owned by Tahsin Khayat, a businessman who also happens to be the uncle of Salah Khayat, CEO of Petroleb, a Lebanese oil and gas company which applied to the pre-qualification round (but is listed as an American company). The next day, the event was featured in virtually all Lebanese newspapers, and international press agencies.
52 companies from 25 countries have submitted applications. Among these, 14 are seeking to qualify as operators and 38 as non-operators. Here is the full list [click to enlarge]: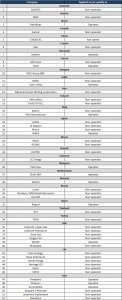 Pre-conditions imposed on companies were tough (click here to view pre-qualification criteria), which explains why only about half of those who requested application documents chose to apply. Bassil had previously stated that there is no reason that a company would not pre-qualify if it meets the criteria. The only exception would be companies that have done business in Israel. This explains why Australia's Woodside, which had previously bought related seismic data, is not on the list. GPB Global Resources, a subsidiary of Gazprombank, which used to have a branch in Lebanon, may also be concerned if Gazprom is awarded a contract in Israel.
The list of pre-qualified companies will be announced on April 18 (the deadline can be extended for two weeks). Bassil was keen on presenting this list, which includes some of the biggest names in the industry, as a huge success, especially if compared to the companies that other countries in the region were able to attract. According to the caretaker minister, these companies are aware of the risks involved and know that revenues will not start flowing before several years, but are still interested in participating in the first licensing round driven by the country's vast oil and gas potential and trust in how the government and the Ministry of Energy and Water are managing the sector.
While the number of companies that are seeking to pre-qualify is certainly an interesting indicator, the real test will be the opening of the first licensing round, and how many pre-qualified companies will choose to go ahead and place bids in a tense political context, further complicated by the resignation of the government on 22/03. Despite Bassil's reassurances, firmly repeated in his press conference, it remains unclear how the process will avoid disruption if a new government is not formed ahead of the first licensing round [see "Lebanon – Country risk" in our March 25, 2013 roundup].
Notably absent from this list are Qatari or Saudi companies, as well as their political and business relays in Lebanon. While the initial U.S. position vis-à-vis the Lebanese government and the significant presence of Hezbollah in the cabinet, did not prevent the American administration from backing the government's efforts to exploit the country's offshore resources – and this is reflected in both the number and the caliber of American companies that are seeking to pre-qualify – Saudis and Qataris preferred not to get involved. They may not be interested economically speaking, but their position towards the Lebanese government cannot be ruled out from the equation. Unlike the Americans, the Qataris and Saudis seemed largely focused on the current government (now ironically a caretaker government) and did not take into consideration the possibility of a cabinet reshuffle or a change in the balance of power in the country.
On the other hand, the presence of Repsol is interesting to highlight, as it is result of a Spanish policy of opening up to the region. This presence should not be perceived from an exclusively economic angle, rather, it is the logical outcome of an intensive diplomatic activity conducted by the Spanish in the past few years to develop economic, security (UNIFIL), cultural and social ties with countries in the Levant. Fortunately, the Deir Amar affair [a Lebanese-Spanish consortium initially won the bid to build a power plant in Deir Amar but was not awarded the contract after failing to agree with the Ministry of Energy and Water on the overall cost of the project] seems not to have deterred the Spanish.
It should also be noted that Eni and KOGAS, holders of exploration rights in Blocks 3 and 9 in Cyprus, both adjacent to the Lebanese borders, are likely to be interested in acquiring exploration rights in contiguous blocks on the Lebanese side of the borders. According to a leaked version published by Lebanese daily al-Akhbar on 25/03, the Lebanese exclusive economic zone will be divided into 10 blocks (see picture below). Blocks 1 and 3 seem to be adjacent to Blocks 3 and 9 in Cyprus. However, the adoption of these blocks and their coordinates needs to be approved by a governmental decree.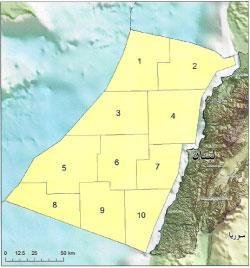 As mentioned in previous roundups, high-level diplomatic activity prior to the closing of the pre-qualification round can be perceived as an indicator of which countries (and companies) are interested in the first licensing round. Foreign Secretary William Hague's visit on 20/02, and UK ambassador Tom Fletcher's energetic activity encouraging UK firms to be involved in oil and gas exploration is clearly reflected in that list: UK companies constitute the biggest contingent (only equaled by the U.S. and the UAE) with six companies applying to pre-qualify for hydrocarbon exploration. The U.S., which dispatched a senior State Department delegation comprising Deputy Assistant Secretary of State for Energy Diplomacy Amos Hochstein and Acting Deputy Assistant Secretary of State for Near Eastern Affairs Lawrence Silverman arrived to Beirut on 11/03, is next with five companies, including Chevron, ExxonMobil and Anadarko. Hungary's Prime Minister Viktor Orbán openly expressed his country's interest in investing in the Lebanese oil and gas sector during his visit to Beirut on 27/02 and this is reflected in the participation of MOL Group in the pre-qualification round.
In addition to these visits, the Danish ambassador, accompanied by a delegation from Maersk, visited Finance Minister Mohammad Safadi on 13/03. On 26/03, the Brazilian ambassador, accompanied by a delegation from Petrobras also visited Safadi. Petrobras expressed its interest in Lebanon's oil and gas early on, and was among the first companies to engage with Lebanese officials, sending a delegation to meet with President Michel Slaiman in March 2012. EU ambassador Angelina Eichhorst, very active online, summed up European interest in the oil and gas sector by retweeting Gebran Bassil's updates on his press conference, revealing a certain satisfaction of how work is being conducted.
Lebanon – Internal politics:
President Michel Slaiman set April 5-6 as the dates for holding parliamentary consultations, a necessary step for naming a Prime Minister-designate. Pushing the date well after the Easter break suggests that the formation of a new government is not being handled as a pressing issue of utmost importance. If this is the case, the process might drag on for months.
Well ahead of these consultations, the Ministry of Energy and Water seems to be emerging as one of the main issues of contention, with some aspiring to control it and others seeking to prevent opponents from controlling it. Not surprising given the stakes: he who controls the Ministry of energy controls the oil and gas sector, and, if these resources are developed, ensures a leading role in governing the country [Link in French]. In an interview published in Lebanese daily al-Akhbar on 29/03, Druze leader Walid Joumblat, whose supposed centrism in a polarized political system has turned him into a potential kingmaker, has laid down his conditions for the next government. The most important of these is excluding FPM ministers from retaining the Ministry of Energy and Water and the Ministry of Telecommunications. Natural resources, he said, cannot be kept in the hands of "absurd parties", without providing more concrete comments or observations on Gebran Bassil's record at the ministry.
It is not yet clear what motivates Joumblat's declarations. One or several of these considerations might have had an influence: (1) maximizing demands ahead of the nomination of a Prime Minister-designate before the usual concessions when a deal is reached; (2) relaying the views of one of more of the foreign powers that are influential in Lebanon; (3) looking to secure his own interests: Joumblat has, in a way, been in the oil and gas business in Lebanon for years and is looking for opportunities that may arise from the development of an oil and gas sector. He controls Cogico, one of the biggest fuel-importing companies in Lebanon operating a large number of refueling stations, through his aide, Bahij Abou Hamze, who is also the president of the Association of Petroleum Importing Companies; (4) comforting a Lebanese trend of maintaining a certain degree of opacity regarding the business ties of the local political class.
Meanwhile, Bassil is pursuing his work at the Ministry (on 25/03, in a highly publicized event broadcast live on the evening news of several TV channels, he connected the Turkish electricity barge Fatmagül Sultan to the electrical network at Zouk power plant, in order to generate extra power), illustrating what he has been repeating since the resignation of the government: projects will not be interrupted, deadlines will be respected, with the first licensing round for offshore oil and gas exploration clearly on his mind.
Israel – Tamar:
Natural gas from the Tamar field, discovered in 2009 off the northern costs of Israel, and containing an estimated 9 trillion cubic feet of gas, started flowing on Saturday 30/03, putting an end to a gas crisis caused by the disruption of gas supplies from Egypt, following multiple attacks on the  pipeline carrying gas from Egypt to Israel, and a permanent interruption of these supplies in April 2012. Gas production in Tamar will reduce Israel's dependency on energy imports. Four years after the discovery of Tamar, Israel, once an energy-poor country, is now on its way to achieve energy independence. A similar pace of development would be highly useful to other countries in the region caught in deep economic and financial crisis, by cutting down their energy imports bill and exploring the possibility of gas exports at a later stage. Israeli exploitation of offshore gas resources is closely monitored in Lebanon for obvious reasons, usually fuelling an undeclared competition. The Tamar gas production will hopefully provide further incentives for the Lebanese to develop their own resources.
---