---
Lebanon's Energy Minister Cesar Abi Khalil announced on January 26 the timetable for Lebanon's first offshore licensing round.
As anticipated, a second pre-qualification round will be organized. The same legal, financial, technical and QHSE criteria, detailed in decree 9882/2013, still apply. The 46 companies that pre-qualified in 2013 are still eligible, provided they still fulfill the criteria. Those that qualified as non-operators but now meet the conditions to qualify as operators have the opportunity to do so.
Five blocks are open for bidding: 1, 4, 8, 9, 10.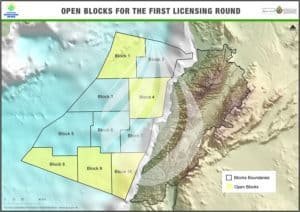 Timetable:
February 02-March 31: Pre-qualification round
April 13: List of Pre-qualified companies published
September 15: Deadline to place bids
September 22: List of applicants per block published
October 16: Bid evaluation by the Lebanese Petroleum Administration
November 15: Signature of EPAs.
The government is still discussing the petroleum tax law. Once done, it will be submitted to the Parliament for final approval. A matter of weeks, we are told. Hopefully the political class will not be tempted to drag the process on. It is important this time around to have a complete framework before inviting companies to place bids. Note that the Parliament is in session until March 20.