---
On both sides of the Arab-Persian Gulf, Italy is perceived as a reliable partner. Rome can count on an active diplomacy to promote its interests in the region and on a vibrant private sector that is sought throughout the region for a variety of reasons, ranging from excellence in certain products, to practicality and affordability.
We chose to illustrate this by producing two infographics, one highlighting the deals concluded or are being negotiated between Italian companies and their partners in Iran in the period following the agreement on a Joint Comprehensive Plan of Action (JCPOA) on July 14, 2015; and the second focusing on Italian-Qatari relations since the accession to power of Emir Tamim bin Hamad Al Thani in June 2013.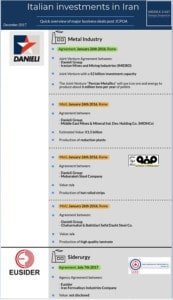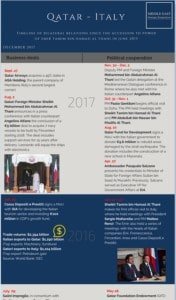 We chose Italy because it is an interesting case-study. It is actively present, at the diplomatic, cultural, and business levels. It enjoys cordial relations with the Gulf countries, and does not carry the weight of history that other EU countries, such as the UK or France, have to deal with in the Middle East.
Does this influence local perceptions for doing business with Italian companies? At the very least, it translates into less constraints.
Italy is well set to be Iran's top European trade partner for 2017.
EuroStat data indicate that Italy was Iran's biggest trade partner in the European Union in the first nine months of 2017, with €3.45 billion worth of trade, followed by France with €2.93 billion and Germany with €2.41 billion. Italy was also the leading destination for Iranian exports to the European Union, while Germany was the biggest EU exporter to Iran during the same period of time.
2017 was an active year for Italy in Qatar as well. Italian Prime Minister Paolo Gentiloni visited Doha on October 31. It is worth noting that, in 2014, the then-PM Enrico Letta was the first European leader to visit Doha after Sheikh Tamim's accession to the throne. And in August 2017, Qatar announced a major agreement to acquire seven navy vessels to be built by Fincantieri as of 2018 for a total of €5 billion.